MARBA sp. z o.o. is active in the design and construction of machinery and equipment for the food and chemical industries. We supply companies in the food industry with original, innovative solutions of high manufacturing quality. We design and build food processing machinery, creating automated production lines for individual customer requirements and expectations.
Technical and technological consultancy
Manufacturing activities mainly include such equipment as:
granular spice dispensers, viscous product dispensers, bulk product dispensers, liquid dispensers, gravity-volume dispensers, mixers (ribbon, paddle, screw), conveyors (belt, plate, chain, screw, roller, ascending), metallurgical jar washers, external jar washers, twist-off lid capping machines, screw capping machines, lid pressing machines, tripe slicers, packaging separation systems, packaging queuing systems, vacum testers, capping machines, herring batching machines.
The solutions in question are unique on a global scale, and MARBA is already supplying them to two different continents (European and Asian). This fact is the main proof of the global dimension of the company's activities.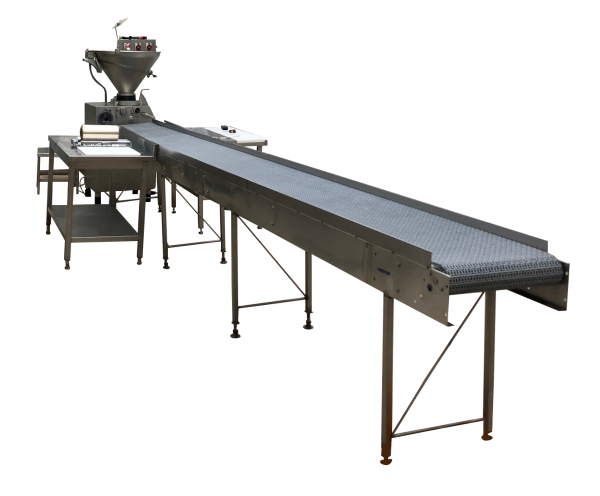 We carry out precise analyses and measurements at the customer's request and offer specialised technical and technological advice. The dimensions of the equipment we manufacture reach both micro and macro sizes, which closely relates the company's production capacity to the cubic capacity of its buildings and their provision of specialised equipment.
Machines and equipment manufactured by MARBA have a reputation for reliability and precision, thanks to which the number of satisfied and willing to cooperate customers is growing year by year. The company has gained a great deal of experience over the years, which has consolidated its position in the industry. Above all, it is a company with passion and constructive imagination.
Many years of experience, perfectionism and determination have led to the acquisition of patents for [Carousel volumetric dispenser and method of dispensing products] and for [Herring rolmops rolling machine]. The company is constantly working on new solutions to automate the production process. It sets itself further ambitious goals and strives to achieve them.